---


We are looking forward to meeting you, the "Special ONE", with your best smile.
‐ Open to All Elementary or Primary School Students from Around The World ‐
---
Messages from 2022 to 2023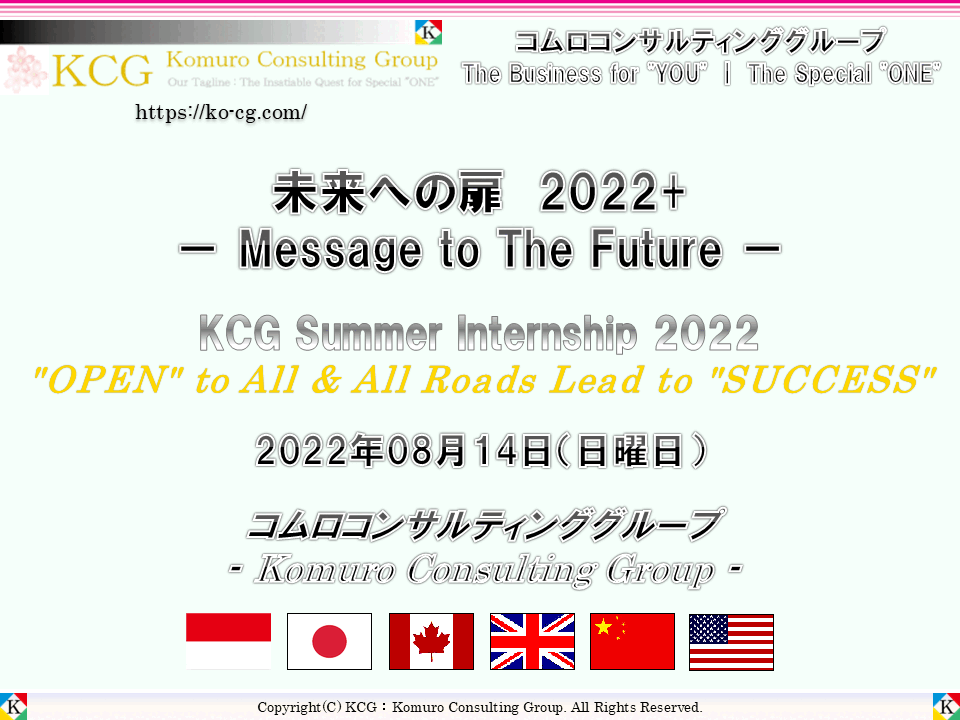 Recommended and Approved Internship Program by Elementary or Primary School 2023
This event is hosted by
Komuro Consulting Group
Organiser
Komuro Consulting Group Internship Project Team
Dates
Dates are subject to negotiation.
Location
the fifth floor of Tensho Yoyogi Building, 1-30-15 Yoyogi,
Shibuya City, Tōkyō 151-0053, Japan ⇒ Access Map
Required conditions for application
◆ You are either in your final year at your elementary or primary school.
◆ Internship program only accepting students who can get an official recommendation by their elementary or primary school.
◆ You are able to get your parent's permission to join this program.
Number of people joining this event
A small group.
Treatment
We will not provide you with any financial reward or your travel cost.
Rewards
◆ Certificate of joining the internship program.
◆ Message card from the attendees and photos.
The program contains
Program contains are subject to negotiation.
Content ONE : Consulting or Management
Content TWO : Marketing
Content THREE : Financial Literacy
Content FOUR : Career Design or Human Resource Development or Education
Content FIVE : System Development or Programming
Content SIX : Design or Content Production
Content SEVEN : Sports or Athletes support
Content EIGHT : Social Contributions or Community Service or Volunteer Activities
etc.
Teacher and mentor
CEO of Komuro Consulting Group, Masashi KOMURO etc.
Process of selecting the students
Application ⇒ Documental Selection ⇒ Interview ⇒ Final Result
※We will inform you the results via email or phone call.
※We do not accept any inquiries regarding the final results.
Schedule for application
Accepting at any time
Application documents
Fill in your profile and essay in the required format ※We will not return them once you submit.
1.Profile ※Must include your photo.
2.Essay ※Write for the following two topics separately.
  ● What is your dream and what have you done to attempt to achieve it?
  ● What is a 'value' you can provide to others?
3.Recommendation Letter
How to send the documents
*Please put all the necessary documents required and post them to the following address untilthe deadline.*
Internship Program for All Students 2023 Team
Komuro Consulting Group
fifth floor of Tensho Yoyogi Building, 1-30-15 Yoyogi,
Shibuya City, Tōkyō 151-0053, Japan
Contact
Format  ※Please ask your school to directly message us for any inquires.